Students shouldn't have to strike from school to show they care about climate.
Empowering young people to lead change.
The planet must be carbon neutral by 2030. 
By offering students the tools and skills they need to become changemakers, and lead systemic innovation in the new world, our aim is to give the next generation the best possible chance of reaching that goal. 
Our Theory of Change holds that through challenge-led learning, we train teachers and educators to empower teenagers to lead us to a zero-carbon economy. We want to equip young people world wide with the skills and competencies needed to become changemakers and lead systemic innovation​.
By working with EIT Climate-KIC partners, learning designers, and teachers as multipliers of change, we aim to challenge current paradigms in the education system, mainstreaming climate  change education and embedding systems thinking and challenge-based learning into curricula.
For a more in-depth introduction to our Theory of Change, vision, and intended learning outcomes, please click the link below. Visit the download page to access our methodology. 
Theory of change Access our methodology
The programme in 2021
As a world-leader in innovation and education, EIT Climate-KIC is well-placed to explore new ways of learning in the digital space. 
It has never been more important for us to be responsive, flexible, and work within our ecosystems to deliver programmes that drive system change through integrated communities. 
And when the world emerges from COVID-19 it will emerge with different priorities. It will be imperative that we build back better instead of defaulting to the status quo.
Our educators and young people will be a critical part of that rebuild and the deep systemic change required.
The Young Innovators programme can help prepare them for that challenge.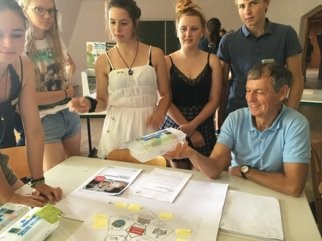 "There is nothing more comforting than feeling that you have done good. It is not an easy task, but if we all "fight" together, perhaps in the future, some of that ideal world will come true. We must get to it with enthusiasm!"
Spanish Secondary School Student
Three ways to get involved
Our Theory of Change
We want to contribute to a society where sustainable lifestyles are embraced – where people understand complexity and interrelationships, and have the creativity and problem-solving skills to generate innovative ideas.
We are working towards a society where people choose green jobs and where careers are resilient to climate impact. 
We will empower students and teachers to participate in democratic decision making by helping them develop collaborative ways of working and the competencies to translate ideas into actions.
We believe we can help people become changemakers, capable of mobilising others into collective climate action.  
By involving local governments and industry partners and engaging teachers and school directors, we will create active local ecosystems that embrace interconnections and global challenges. 
Traditional approaches to climate innovation, focusing on just a few aspects of an issue, aren't effective enough to solve a problem of this scale and complexity. .  
We want to have an impact by working with teachers to mainstream climate education. 
Students shouldn't have to leave the classroom to show they care about climate change. 
Let's together seize the opportunity to tackle climate change through learning and innovation at a young age, and nurture the roots of systems change in our schools.
Get involved
Want to engage in empowering the next generation?
Young Innovators is the only challenge-led programme in Europe supporting climate innovation through a wide net of partnerships with schools, cities, governments and industry.
If you are an educational institution, a city representative or industry leader, or would like to support us, get in touch with us today!